Treat Yourself! LLC Offers the following services.
Menu/Nutrition

We are a small family-owned business. We are blessed to be able to serve our wonderful ice cream lovers of Manatee County. Treat Yourself-to childhood memories!
Book Us

We are available for any private or business event. Hurry and book your next party with us before the ice cream melts.
Loyalty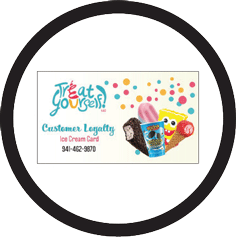 You can earn one stamp for every $6 spent on ice cream. Once you collect 9 stamps return your card along with your name and phone number for a free. For an opportunity to great giveaways at the end of the year.
Locations
All you need is Ice cream
Treat Yourself! Is available 7 days a week, from 4:00 pm to about 9 pm.